Drip Doku
Drip – Ivana Pavlickova
Photos: Palazzo Photography
Further press info and high res documentation on request.
Price list on request. Contact here.
More coverage online at kubaparis.com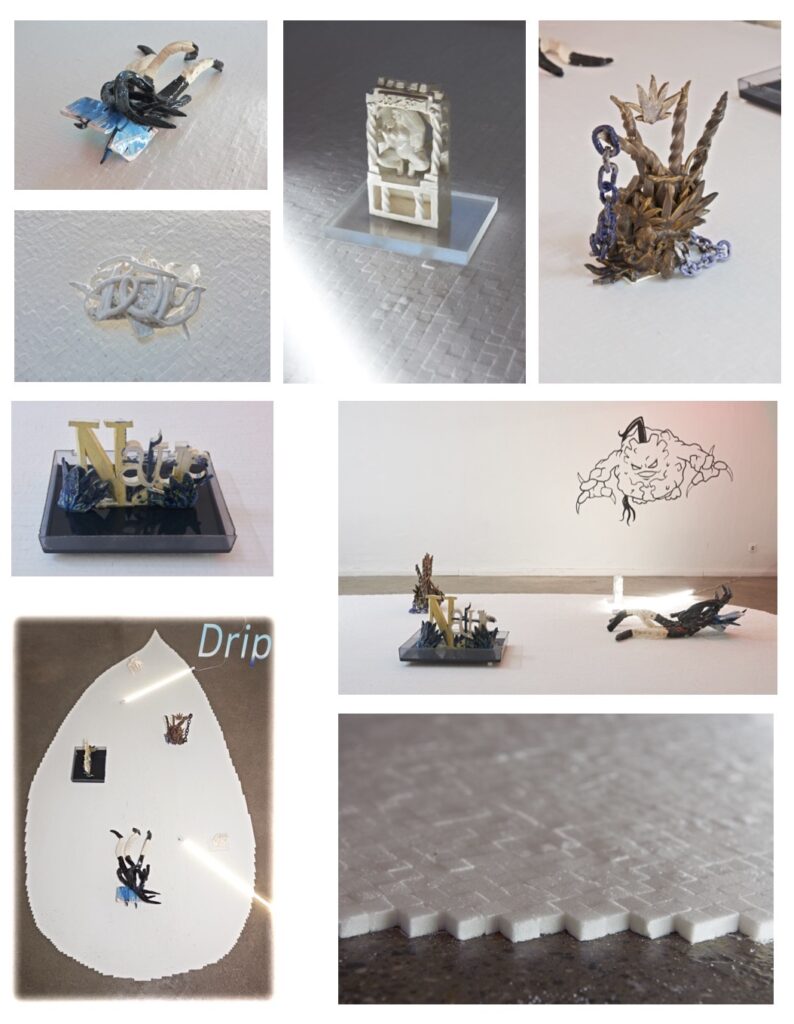 P R E S S I N F O
"Drip" by Ivana Pavlickova,
Curated by: Meryem Erkus and Marie Sturm,
08.01. – 20.01.2021 / visible 24h/7
GOLD+BETON presents:
DRIP
by Ivana Pavlickova
Ceramic Sculptures, Sugarcollage, Wallpainting
After more than a month of the forced break, GOLD+BETON celebrates having survived the year 2020.
To do so, the new year starts with a solo exhibition by Czech artist Ivana Pavlickova.
In her first solo exhibition in Cologne, Ivana Pavlickova presents a complex, site- and time-specific installation on power structures, the feminine, and constructed virtual identities.
On view are glazed, detailed ceramic sculptures as a bittersweet floor collage with references to racism, abuse of power and resources / human exploitation in current and historical contexts. Simultaneously a surge of empowerment runs through the exposure of hyperfeminine female figures and feminized Pokemons. Avatars that fit perfectly into the artist's virtual fantasy world.
Ivana Pavlickova (*1990 Hranice na Moravě, CZ) studied sculpture with Michal Gabriel and Martin Honert, among others. After some years in Dresden, she lives in Cologne since 2020 where her work focuses increasingly in the disciplines of research and new media.
++
Alongside the exhibition, a limited postcard edition will be released.
These special GOLD+BETON Season-Greetings can be picked up from Wednesday, 13.1.2021 at the entrance of GOLD+BETON. The exhibition can be viewed through the gallery window of GOLD+BETON.
Press and individual viewing appointments are available upon request. Contact see below.
Drip is the first part of the exhibition series WELL* am Ebertplatz, which is realized in cooperation with the Gemeinde Köln and Mouches Volantes and with the support of Neustart Kultur of the Stiftung Kunstfonds. More information about WELL* am Ebertplatz will follow soon.