RHO Kollektiv
BUT YOU HAVE A LOT OF FRIENDS
26.1.-3.3.
Vernissage: FR 25.1.
Geöffnet: FR & SA 16h – 19h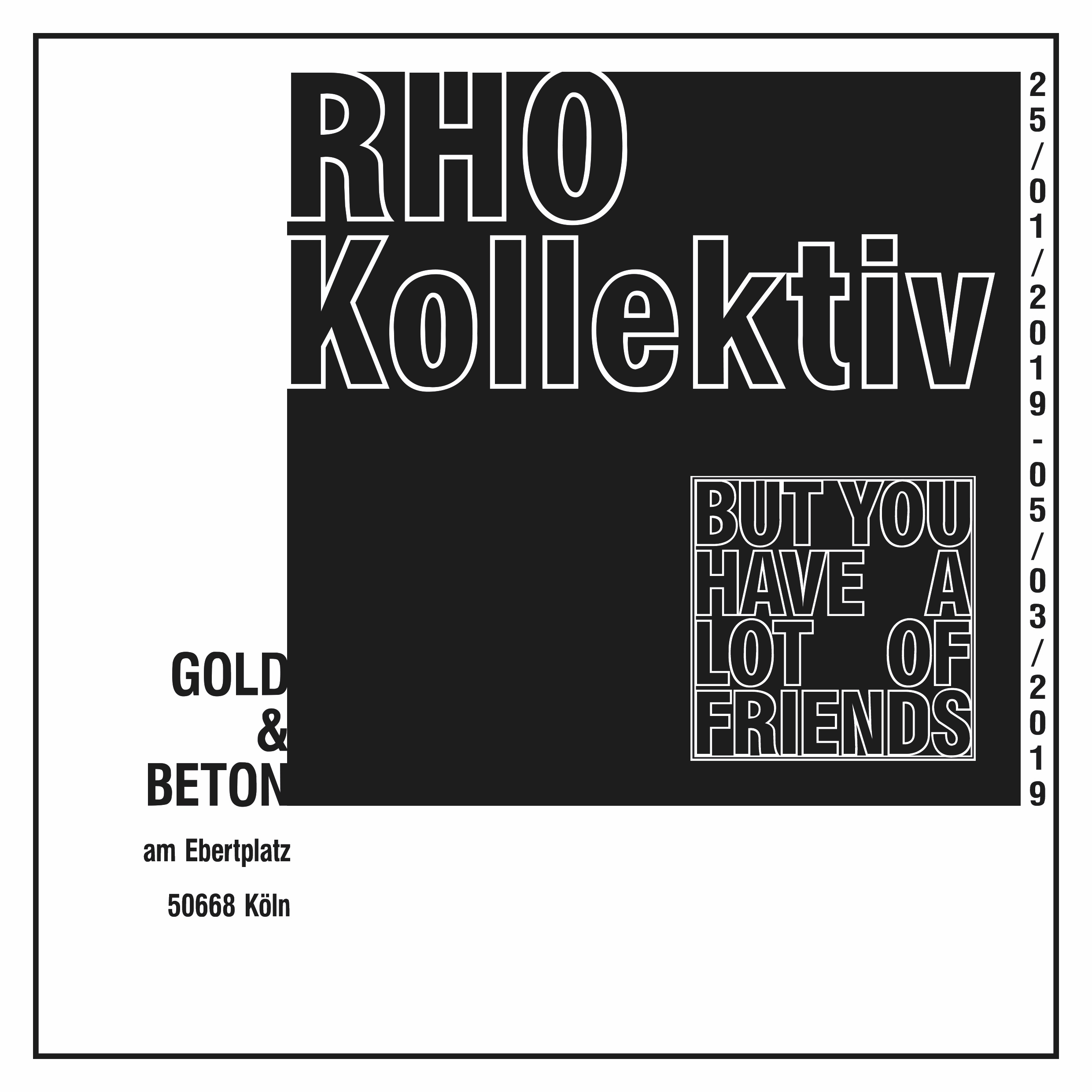 RHO begreift sich als ein offenes Kollektiv mit festem Kern von Kreativ Schaffenden und Denkenden. Es versteht sich auf längere Sicht mehr als Stil der unabhängig von seinen einzelnen Teilnehmern funktioniert und wächst.
RHOs Arbeitsschwerpunkt liegt auf szenografischen Raumgestaltungen. Dabei setzt das Kollelktiv durch seine minimalistische Vorgehensweise möglichst umfassend an den verschiedenen Punkten der menschlichen Wahrnehmung an. Es operiert mit Elementen der bildenden Kunst, elektronischer Musik, Theater, Bühnenbau und Essays.
Das primäre, formal ästhetische Wiedererkennungsmerkmal des Kollektivs ist sein rauminstallatives Vorgehen und das gezielte Ein- und Aufgreifen architektonischer Grundgegebenheiten der Veranstaltungsräume. Dazu werden üblicherweise noch zusätzlich Ebenen wie Sound, Licht, Geruch und Temperatur hinzu genommen.
RHO nimmt Räume als Echoräume wahr. Damit ist gemeint, dass jede Person sich auf Grundlage ihrer puren Präsenz in einem Raum etwas in diesen bei- und hineinträgt und daraufhin auch wieder etwas zurück kommt. Der Ausschlag von In- und Output variiert von Veranstaltung zu Veranstaltung und nach Persönlichkeit des Besuchers. Dadurch erhält sich RHO die Möglichkeit einer breiten Varianz an Raumgestaltungen offen und bleibt dennoch in seiner Arbeitsweise wieder erkennbar.