Installation, Performance, Video
18.06. – 11.07.2021,
GOLD + BETON
geöffnet täglich von 15h-20h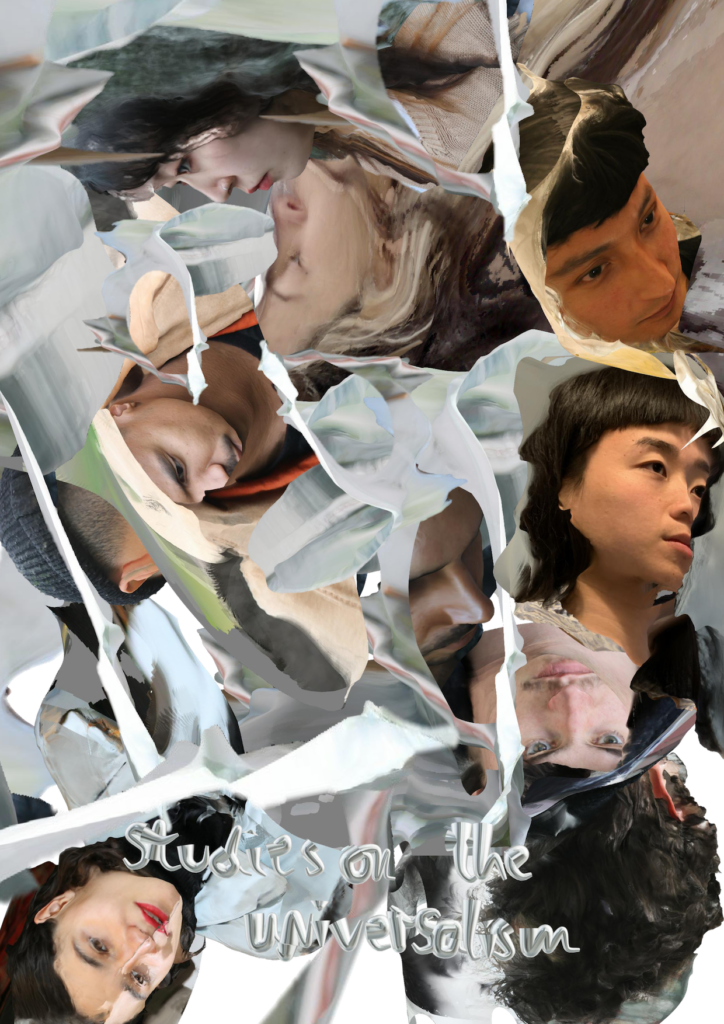 Solo-Performances jeweils FR-SO von: Cristi Knak Tschaikowskaja, Aro Han, Adal, Hrista Panayotova, Demetrios Vasilakis, Richard Kaldenhoff, Paula Pau, ISaAc Espinoza Hidrobo
Kuratiert von Marie Sturm

"Modèles" zeigt ein Kollektiv aus Individuen und beschäftigt sich mit dem Bewusstseinwerden des digitalen Einfluss auf den Menschen.
Die aufgrund der Pandemie reduzierte Version des Zyklus »studies on the universalism« zeigt in den nächsten drei Wochen jeweils Freitag, Samstag und Sonntag eine Solo-Performance jedes Performerx. Der/die Performerx setzen sich in der Performance als "living-space" mit der Wahrnehmung ihrer eigenen Wesen auseinander. Eine Kamera bewegt sich auf einer kreisförmigen Schienenkonstruktion um den/die Performerx und beeinflusst damit die eigene digitale Gestalt. Die Performance zeigt die tägliche und stetig ansteigende Konfrontation mit der digitalen, von außen kreierten Gestalt eines Individuums.
»Durch die "Einführung von Gesellschaftsmodellen«, der Sichtbarmachung von »Lebensmodellen« einer diversen Gesellschaft, in der sich jedes Mitglied nicht anhand von Differenzierungsmerkmalen voneinander abgrenzt und die Kreation eines gemeinsamen, kollektiven Ganzen im Vordergrund steht, zeigt die Performancereihe "studies on the universalism. modèles" nicht nur auf, wie sich in bestimmten Berufen wie z.B. dem Beruf der Performer:innen oder Tänzer:innen ein "universal approach" schon lange etabliert hat, sondern auch einen Modellcharakter für andere Berufe und Lebenswelten.«
Christi Knak Tschaikowskaja (*1990, Karaganda, Kasachstan) ist eine Kölner Performance- und Installationskünstlerin. In ihren Konzepten setzt sie sich mit systematischen Begebenheiten auseinander und arbeitet mit dem Medium der Performance als kreierendes Medium von »living-spaces«. Parallel zu ihrer künstlerischen Ausbildung an der Kunsthochschule für Medien Köln, begibt sie sich in die Praxis der Justiz und schließt ihr 2. Staatsexamen ab.
mehr Infos: www.christi-knak-tschaikowskaja.de
»studies on the universalism. modèles« ist Teil der Ausstellungsreihe WELL* am Ebertplatz, ein Projekt in Zusammenarbeit von GOLD+BETON, Mouches Volantes und Gemeinde Köln für den Brunnen e.V.
WELL* am Ebertplatz und das Jahresprogramm der Kunsträume wird gefördert von der Stiftung Kunstfonds und dem Kulturamt der Stadt Köln und kuratiert von Ihsan Alisan, Meryem Erkus, Maria Wildeis und Agustina Andreoletti. Der Brunnen e.V. ist Teil von »Unser Ebertplatz« und dem Kunstinitiativen Köln e.V. (AIC.COLOGNE).